Welcome to Las Vegas, where the bright lights and endless entertainment options are not the only things that shine! In fact, the city's thriving real estate market is a glowing example of growth and opportunity. Las Vegas has long been known for its booming tourism industry but it's also a major player in the real estate game.
If you want to learn how to invest in multi-family real estate, you've come to the right place. From duplexes to fourplexes and townhomes to Commercial properties (5+ units), we'll look at the various types of multi-family properties that are available here. In addition, we'll go over the advantages of buying multi-family homes and give you tips on how to buy a multi-family property in Las Vegas.
Overview of the Las Vegas multi-family property market
Las Vegas is a city that never sleeps, given its bustling nightlife, world-class entertainment, and endless attractions. With the city's constantly growing population, it's no surprise that multi-family properties in the area have emerged as one of the most attractive investment prospects.
Multi-family properties are residential buildings with more than one unit. They can range from small to large apartment complexes, townhomes, and condos.
Waves of migration
More people are flocking to Nevada from California, Washington, and even East Coast states like New York and New Jersey. A surprising set of immigrants is also making Las Vegas their new home: Hawaiian natives. Driven by stratospheric home values in their motherland, these Pacific Islanders are adding to the more than 650,000-strong population of Sin City. With all these new settlers coming in, the demand for multi-family properties also continues to grow.
New rental developments
Recently, rental rates in Sin City have been on a mild downturn despite the continued migration to the area. Global real estate investment management firm Colliers stated in its Q1 2023 market research report that vacancies are up by 0.57 points in Q1 from the previous quarter and up by 3.91 points from last year. For its part, ApartmentList.com showed in its July 2023 rent report that the median rate for a one-bedroom rental is at $1,071 – almost the same as the previous month but down by 4.8% year on year, essentially falling below the national average.
This is not a cause for worry, though, as these statistics are the result of a rental market that has finally caught up with the overwhelming demand. A whopping 543 units were added to the rental inventory in the first quarter alone, marking the shift toward a more tenant-friendly market. This development also provides more affordable housing options for those who have yet to build a budget for a home of their own, as well as those who prefer the convenience of renting.
Gains from rental income
Given the overall positive atmosphere in Las Vegas, investing in multi-family housing is a lucrative opportunity for those looking to enter the real estate market in the city. Rental income from multi-family properties can provide a steady stream of cash flow and appreciation in value over time.
Many apartment buildings and condos come equipped with state-of-the-art fitness centers, swimming pools, and other recreational facilities. Whether you're looking to buy a multi-family property to live in or rent out, be sure it has the latest features and amenities to make the most of your investment.
Types of multi-family properties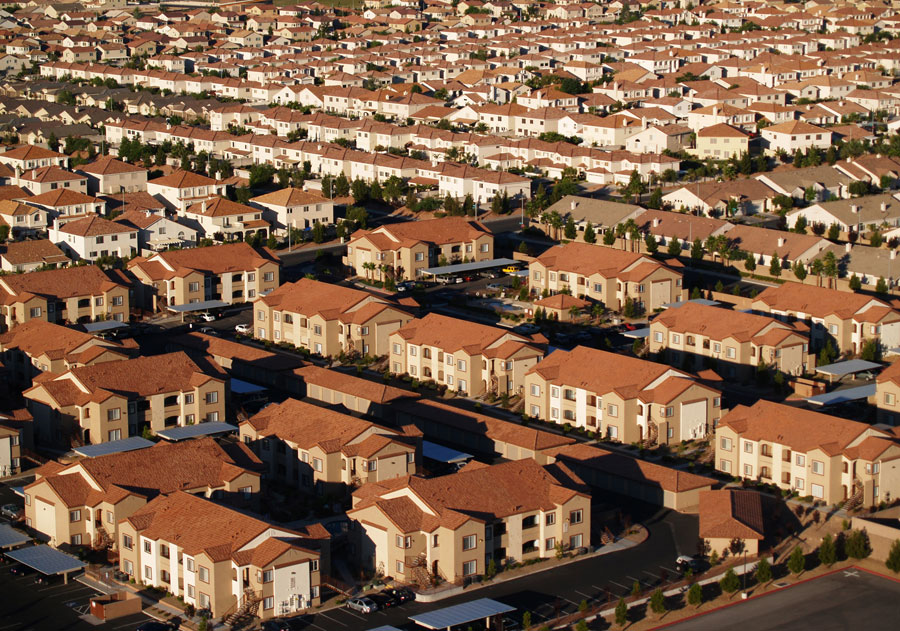 When learning how to buy a multi-family property, it's crucial to identify the real estate type that aligns with your goals, needs, and budget. Below are the types of multi-family properties you'll find in Las Vegas.
Duplex/triplex
A duplex consists of two connected units or dwellings, while a triplex is made up of three. Each unit in a duplex or triplex has its own entrance, allowing individual access. Additionally, these properties often feature separate yards and garages, providing residents with their respective outdoor spaces and parking areas. Duplexes and triplexes offer an affordable housing option, rental income potential, and the flexibility to accommodate extended families or individuals who want a sense of privacy. You'll find these properties in many neighborhoods, offering residents and investors a variety of options.
Fourplex
As the name implies, a fourplex has four individual units attached to each other under one roof. There's usually a common foyer or entryway in a fourplex but each residence has its own living spaces. Fourplexes are usually purchased as investments, with the owner living in one and renting out the other three. Mortgage rates for fourplexes are typically lower than those for commercial properties.
Along with earning the same rental revenue as four individual rental properties, fourplexes provide tax benefits and can lower mortgage payments. Note, however, that a fourplex owner is also responsible for property management and tenant relations.
Commercial properties (5+ units)
Multi-family properties with five or more units are considered commercial properties. To distinguish between multi-family housing and commercial real estate (CRE), consider that the former is a property leased to live in while the latter is a building leased to run a business. Based on its function, CRE is usually divided into four categories:
Office space
Industrial use
Multi-family rental
Retail
Individual categories can be further classified beyond general classifications. Retail real estate, for example, is classified as follows:
Hotels and resorts
Strip malls
Restaurants
Healthcare facilities
Why invest in multi-family homes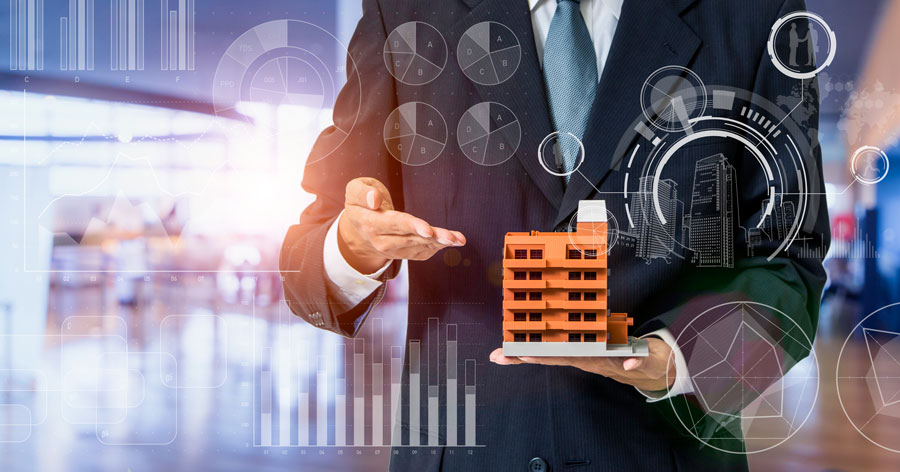 Consistent cash flow

Investing in multi-family properties offers a significant advantage in terms of reliable rental income. In contrast to single-family homes that have one tenant or tenants living as one group, multi-family properties can have many tenants, with each paying their own rent. Vacancies in one unit don't rule out the possibility of cash flow from the other units.

Easier to finance

Banks typically prefer financing multi-family properties due to the perceived lower risk. That's because apartment buildings generate more predictable cash flow than single-family rentals. Thus, you may be able to obtain loans at lower interest rates and more attractive terms.

Imagine you own a multi-family property with four units, and one tenant unexpectedly moves out. This would result in a 25% reduction in rental income until you can find a new tenant. A single-family rental, however, would suffer a complete loss of income during the vacancy period, posing a higher risk to lenders.

Scalability and growth potential

Multi-family real estate is a faster and more efficient way to grow an investment portfolio than single-family rentals, which entail acquiring properties one at a time. Furthermore, as you acquire larger multi-family homes with five or more units, you eventually enter the commercial sector. Investing in these properties is significantly more profitable and has greater cash flow potential.

Tax breaks

There are many tax advantages associated with multi-family real estate. Expenses related to maintenance, operation, and repairs, as well as insurance premiums, can all be deducted. You can also earn tax benefits through real estate depreciation and cost segregation even if the fair market value of the building technically rises over time.
Tips on how to buy a multi-family property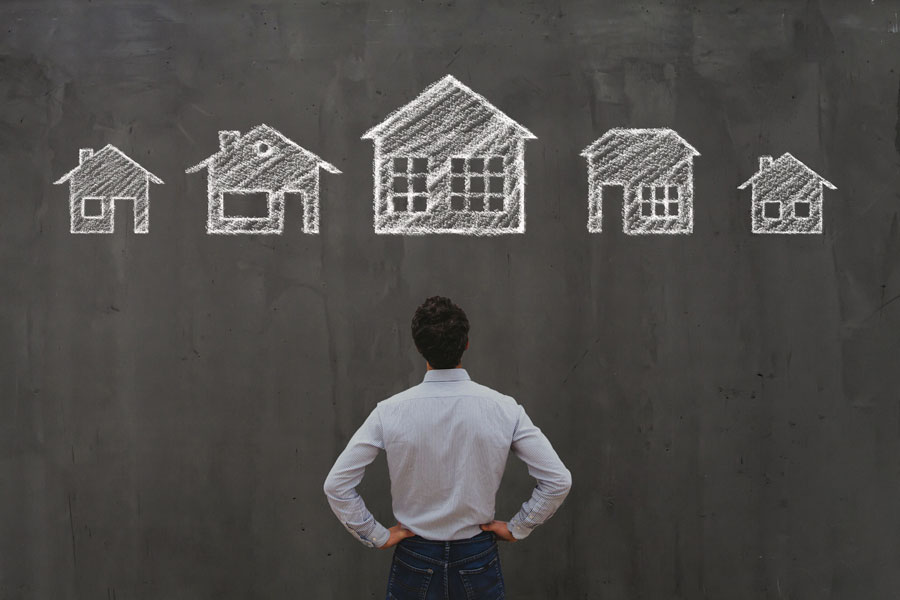 Multi-family properties are profitable investments that require careful planning and research. Whether you're new to multi-family real estate or a seasoned investor looking for the right property, these tips can help you get started.
Work with a local real estate agent
When purchasing multi-family properties in Las Vegas, enlisting a seasoned real estate agent can make all the difference. With their knowledge of the market, they can assist you in choosing the ideal investment option for your specific needs. Your agent can also offer expert advice on how to buy a multi-family property, especially in a competitive market like Las Vegas.
Determine your budget
The first step in investing is to define your financial objectives and decide how much you're willing to commit. Take the following factors into consideration when assessing your financial situation:
Closing costs: These expenses may range from 2% to 5% of the property's sale price and include lender fees, title insurance, property insurance, and property taxes. Closing costs are usually higher for more expensive housing.

Carrying costs: Among these expenses are mortgage payments, property taxes, insurance premiums, and utility bills. These must be paid on a regular basis for as long as you own the investment property to keep your business running.

Renovation costs: Check the property's condition before renting it out and determine if any repairs or renovations need to be done. Consider the potential expenses involved in preparing the property for rental.

Ongoing repair costs: Put aside funds for unforeseen expenses such as plumbing issues, appliance repairs, and roof leaks. These unexpected costs should be included in your planned profit margin.

Timeline: Take into account the time it takes to complete repairs and renovations, find a tenant, and begin renting out the property. A prolonged renovation period may result in a higher carrying cost so it's important to keep track of your timetable.
Research potential neighborhoods and choose a location
Multi-family real estate investors know that location is vital to their financial success when purchasing a property. The more strategically advantageous the location, the higher the appeal, and ultimately, the better the returns on investment.
When looking for Las Vegas multi-family homes for sale, consider the following factors:
Average rental rates
Average vacancy rates
Employment rates
Average price per rental unit
Walkability ratings
Crime rate
School district ratings
The condition of nearby homes and buildings
Local price trends
Future projects or developments in the area
Choose a lender and get pre-approved
One of the most important things you can do when purchasing your first rental property in Las Vegas is to consult with a knowledgeable professional who specializes in rentals here. This is because financing an investment property differs from financing a primary dwelling in terms of loan types, interest rates, and requirements.
The best type of loan for your investment depends on the property you intend to buy. So, having a thorough understanding of the various property types is crucial before you begin your home search. For instance, if you intend to live in a triplex, you may opt for a Federal Housing Administration (FHA) loan that typically allows smaller down payments.
Meanwhile, a hard money loan can be used for renovations. Hard money lenders recognize the potential value of properties after repairs, unlike traditional financial institutions. Here, lending decisions are determined based on the home's after-repair value (ARV). This type of loan can provide you with more funds to acquire and renovate a multi-family property.
Choosing the right loan type and working with a lender specializing in investment properties go hand in hand. Due to the perceived risk associated with lending for investment purposes, rental property loans have higher interest rates. Research and identify reputable investment property loan providers who offer competitive terms.
Here are a few of the best investment property loan providers:
Estimate profits and losses
Once you've found a prospective property, consider its financial aspects before making a decision. Evaluate the property's current income to determine its potential profitability. Ensure that your income exceeds your expenses, which will include multi-family mortgage payments, utilities, taxes, property management fees, repairs, and lawn care.
Considering the long-term financial implications of the property is also important. Decide what your major financial goal is, whether it is cash flow or property appreciation. Analyze the potential profits and losses based on your chosen objective.
Make an offer
Before presenting an offer to purchase an investment property, it's important to understand all financial aspects. A competitive market analysis (CMA) can help you determine an appropriate offer price. In this report, sales and property data from comparable homes, or comps, are analyzed to calculate a property's current value. A real estate agent can create a CMA for you and negotiate with the seller's agent during this process. Having a well-defined budget and accurate data at your disposal allows you to proceed confidently, knowing your offer aligns with the property's market value.
Obtain funding and close on the property
Following the seller's acceptance of your offer, you can proceed with the closing process, which usually takes 30 to 60 days if you obtain financing. You may need to complete several essential steps, depending on your state's legal requirements.
First, you may have to get expert legal advice regarding certain aspects of the transaction. You should also obtain title insurance to protect your ownership rights and ensure a clear title. Additionally, an appraisal and home inspection will have to be conducted in order to determine the property's value and condition.
As the day of closing draws near, you will make the down payment, complete all required paperwork, and finalize the transfer of ownership. Your new multi-family property will be handed over to you once these steps are successfully completed.
Are you ready to embark on your journey as an investor in Las Vegas multi-family real estate? Aside from the tips mentioned above, make sure that you understand the unique factors that define this city. Las Vegas, with its vibrant entertainment industry, booming tourism, and rapid population growth, presents an ideal setting for multi-family real estate investment. Understanding the dynamics of the local economy, rental market trends, and regulatory environment will shape your investment strategy. Moreover, when searching for Las Vegas multi-family homes for sale, remember to carefully assess each property's potential for rental income and long-term appreciation, as well as local regulations and property management options.
Take the first steps to become a multi-family real estate investor
It can be overwhelming to invest in multi-family real estate – but it doesn't have to be. With this guide and reputable Las Vegas real estate agents like Chris Brown and Ryan Crighton on your side, you can ensure a successful transaction. Chris will not only teach you how to buy a multi-family property, but he will also ensure that you secure the best possible deal. Additionally, if you have plans to sell a multi-family property in Las Vegas, he is well-equipped to assist you in maximizing your return on investment. Get in touch at 702.445.1330 or send Chris an email to learn more.